ENSIC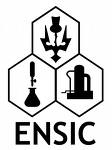 Founded in 1887, The Ecole Nationale Supérieure des Industries Chimiques (ENSIC Nancy) trains highly skilled engineers in Chemical Engineering and Process Technology. ENSIC Nancy is one of the seven schools of the Institut National Polytechnique de Lorraine (INPL), France's largest technological university. ENSIC Nancy offers three masters-level engineering degrees accredited by the Commission du Titre de l'Ingénieur (France) and by the Institution of Chemical Engineers (UK):
«Ingénieur des Industries Chimiques» (3 years after a 2-year preparatory program of intensive study) : also open to 5th-year-students from Faculties of Pharmacy (the Pharma Plus option : 2 years)
«Ingénieur des Techniques de l'Industrie» (FITI) : cooperative industrial-academic training program in Chemical Engineering Technology (3 years after a two-year technician degree), in partnership for eligible students with the Mannheim Hochs-chule ( Germany ), for a double-degree program.
«Ingénieur de la Section Spéciale » (1 year) : Chemical Engineering for engineering graduates from other disciplines.
5 laboratories (3 of which are associated with the CNRS, The French National Center For Scientific Research) provide ENSIC Nancy with a leading role in the fields of Chemistry and Chemical Engineering in Europe .
LSGC : Laboratoire des Sciences du Génie Chimique (Chemical engineering sciences)
LCPM : Laboratoire de Chimie Physique Macromoléculaire (Polymer Science and Macromolecular Physical Chemistry)
DCPR : Département de Chimie Physique des Réactions (Physical chemistry, kinetics and photochemistry)
LTMP : Laboratoire de Thermodynamique des Milieux Polyphasés (Thermodynamics and multiphase systems)
GEMICO : Centre de GEnie chimique des MIlieux rhéologiquement COmplexes (Rheologically complex media)